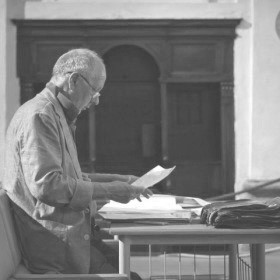 Alessandro Calosci
Alessandro Calosci born in Marradi (Florence)
He began his film career by attending the company's offices by Ermanno Olmi, his Master. The official debut with the film takes place in the film Un certo giorno, he learns, the final edition production, all the steps  of the work.
The following I recuperanti, Durante l'estate, La circostanza and  in '78, L'albero degli zoccoli,   the film won the Palme d'Or at the Cannes Film Festival. In these years of practice alongside Olmi, Calosci alternates however their experiences with other directors. In '73 follows as unit production manager Le cinque giornate by Dario Argento and with the same qualification, for Lina Wertmuller, Tutto apposto e niente in ordine , and other films set in Milan including: Gli assassini sono nostri ospiti  by Vincenzo Rigo, San Babila 20 hours, by Carlo Lizzani, La Polizia ha le mani legate by Luciano Hercules and Sotto il ristorante cinese by Bruno Bozzetto.
Features such as rigor, precision, respecting the roles make Alessandro Calosci required a professional and respected over time. For this reason some of the most interesting directors of the Italian scene, by Gabriele Salvatores Sogno di una notte di mezza estate, Il prete bello byCarlo Mazzacurati, Maurizio Nichetti with Ratataplan ,Alessandro D'Alatri with Americano Rosso, have relied on him in taking the first steps.
By continuing to enrich their curriculum, as a coordinator, with prestigious titles such as Bianca by Nanni Moretti, La Bionda by  Sergio Rubini, Opera Dario Argento, Willy Signori e vengo da lontano by Francesco Nuti, Un'altra vita  always with Mazzacurati , Il mostro by Roberto Benigni, I promessi sposi by  Salvatore Nocita (scripted for RAI starring, among others, by Burt Lancaster, F. Murray Abraham, Danny Quinn, Alberto Sordi and Franco Nero).
Alessandro Calosci starts in the second half of the nineties a fruitful collaboration with Rita Rusic, at the Cecchi Gori Group. From this artistic partnership-productive born movies like La scuola by Daniele Luchetti, Vesna va veloce by Carlo Mazzacurati, Ovosodo and Baci e Abbracci by Paolo Virzì, L'uomo d'acqua dolce, and  La fame e la sete by Antonio Albanese, Naja by Angelo Longoni , La guerra degli Antò Riccardo Milani, Lucignolo by Massimo Ceccherini, L'amico del cuore and Amore a prima vista by Vincenzo Salemme and the comedies by Leonardo Pieraccioni:I laureati,Il Ciclone , Fuochi d'Artificio, Il pesce innamorato.
Twenty-two years later Calosci back to work along with Ermanno Olmi, as executive producer in Il mestieri delle armi, selected in competition at the Cannes Film Festival and winner of nine David di Donatello and Cantando dietro I paraventi.
Also L'amore è eterno finchè dura  by Carlo Verdone, La tigre e la neve by Roberto Benigni, I Vicerè  by Roberto Faenza.
For television he collaborate at the project by Giovanni Minoli "Agrodolce", soap opera with the intent to create a new hotbed of Sicily, along the lines of "Un posto al sole".
And the Film-TV "Max and Helene" directed by Giacomo Battiato.
In 2001 he founded,  with Paolo Luvisotti, the  Ottofilm today Filmotto, with which care as executive producer of the film: Il principe e il Pirata, Il paradiso all'improvviso,Ti amo in tutte le lingue del mondo, Una moglie bellissima,  Io e  Marilyn, the last Happiness, Finalmente la felicità,Un fantastico via vai, and the last, in the cinema in December 2015, Il Professor CenerentoloCinderella. All  by Leonardo Pieraccioni.